For Surveillance Systems … You Can RELY On Us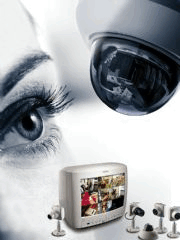 Install surveillance cameras and CCTV equipment and save thousands of dollars. Did you know that the average retailer loses 5% of their inventory to employee and customer theft? Statistics show you can cut that by 50% with properly installed CCTV equipment.
One third of all business failures have been linked to losses from employee theft. Whatever the psychological reason, most people admit to stealing from their employer. Your most trusted employees are often the most likely to steal, usually because the opportunity arises. Video cameras deter theft by reducing the temptation that many people feel.
The size and amount of theft varies from industry to product. Security cameras and monitoring systems in ware houses, on docks and in store rooms greatly reduce employee theft. Cameras monitoring rear entrances and side exits are often enough to reduce theft. Over forty percent of small businesses use video camera monitoring when they have a problem with employee theft of tools, products, money, and time.
Monitor stock rooms, offices, point of sale, and other areas with surveillance cameras. Connect your CCTV equipment to a video recorder or PC for added loss prevention value. Surveillance cameras can be positioned overtly or covertly to cut theft in your business
CCTV Benefits:
· Security Backup – helps your security guard be in several places at one time
· Reduce workman's comp and other liability claims
· Improve employee safety and morale
· Monitor game rooms, vending machines
· Parking areas can be covered even in darkness
· Tie CCTV into your alarm system to capture after-hours shopping
· Reduce vandalism inside or outside building premises
· Monitor lobby area, elevators, stairwells and hallways
· Risk Area – monitor hazardous materials areas and prevent costly accidents
· Production – avoid bottlenecks in production and improve quality control
· Reduce costs – theft reduces profits
Ideal for:
· Patient monitoring
· Pharmacies
· Doctor's offices
· Day care centers
· Schools
· Factories
· Farms
· Shopping centters
· The list is endless….
An Unbeatable Combination…
Incorporate access control into your security system. Designed to integrate seamlessly with your facility, card access now makes the control of employees even more flexible.
Programmable readers can grant or deny access to employees; while you benefit from a user-friendly software. You can run reports showing times of entry and exit. Remove employee access codes, decide who should have access to what, and never worry if keys have been lost, duplicated or need to be returned.
Access control and surveillance cameras dramatically reduce internal theft. Our security system can detect the sound of glass breaking, the motion of an intruder, the opening of a window, man door or overhead truck door.
Monitoring your business 24 hours every day of the year! Reliable Security Systems' equipment and staff can detect and notify the proper authorities when an unauthorized entry occurs. The system can even monitor smoke and fire detectors for your added protection.
Contact us today for the system that best suits your security needs!